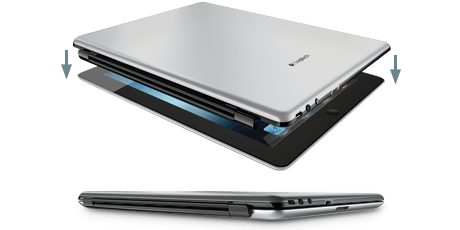 As I have mentioned on my last blog post, here's a follow-up entry for today where I'm going to pick things up from where I left them around some additional Productivity Tips for the Mobile (Social) Knowledge Web Worker. This time around not so much on software per se, but on hardware and, more specifically, for two different types of devices: iPhones and iPads. Over the course of the last couple of years I seem to have developed a bit of an addiction with regards to accessories for both of these types of devices, but things seem to have calmed lately now that I feel I may have found just what I wanted: Mophie, Gum Max and Logitech.
Indeed, as a mobile knowledge Web worker, always on the move, one learns to appreciate quite a bit those small pleasures of staying connected to a power outlet whenever, or wherever!, you may be working, just to keep up with your productive day work. Yet, time and time again, we keep failing bumping into those pocket sockets, whether at airports, at bars, restaurants, coffee shops, at customer sites, conference venues, etc. etc. You name it. Yet we know that we need to keep things going, because we have to. It's our job as mobile workers. So how do we do it? How do we keep our productivity levels up while on the road? 
Well, in my own case, and after having acquired a whole bunch of accessories, that didn't quite make the mark, by the way!, t think I may have landed on the Top 3 that have certainly boosted my effectiveness and efficiency, while I am travelling, to levels I probably thought in the past were not possible. Two of them are battery accessories (For my iPhone and iPad, respectively) and the last one is a keyboard / case for my iPad. 
You would remember how one of the main key issues we all get to experience, and suffer from!, with our mobile devices, whether smartphones or tablets, is the poor performance of the battery life from each and everyone of them. To the point where we all take for granted that while the battery would be, and should be, better, here we are, in 2012, and the innovation happening around that space is not as rampant, and fruitful as in other areas. So while we keep awaiting for that magic bullet that would revolutionalise the entire market in this area, we continue looking for workarounds that would be good enough to make us move forward. 
And after such a long search I think I may have bumped into the perfect combination that has worked really well, for myself, in the last few weeks. And therefore the reason why I thought it would be a good thing to put together this blog post over here to share the experiences of what's been like finding new tricks to battery life, as well as one of my biggest productivity boosts when using an iPad: an ultrathin keyboard cover. 
That's right, on my last couple of business trips that I have done over the course of the last few weeks I never leave home without my fully charged Mophie Juice Pack Plus, my Just Mobile Gum Max and my Logitech Ultrathin Keyboard Cover for the iPad. They have pretty much become indispensable for yours truly and I wouldn't know what things would be like without them, as a mobile knowledge worker, because all of that stress trying to find and locate a power socket or all of that frenzy typing with your bare fingers on the touch screen are now things of the past! And very happy to report they are and haven't walked back ever since! 
The Mophie Juice Pack Plus is that super nifty gadget for the iPhone 4 or 4S that acts as a rock solid battery case that allows you to protect your iPhone from damage, i.e. if it falls down or whatever else, at the same time that it gives you a full one and a half time charge of your smartphone regular battery life, which is just tremendously powerful when you are on the road for an extensive period of time and you don't have a power socket nearby. Not a problem anymore! That Mophie Juice Pack Plus gadget will solve it once and for all. Now, instead of charging my iPhone every single day I only have got to do it every other day, and, if I am lucky, perhaps even 2 or 3 times per week! Again, priceless, if you don't have access to AV current right away while travelling. 
But it gets better, because even if I run out of battery life both on my iPhone 4S and my Mophie Juice Pack Plus I still have got another little gadget that has transformed the way I interact with both my iPhone and my iPad: of course, I am talking about Just Mobile's Gum Max external battery, which, although originally designed for the iPad, also allows you to charge your iPhone's battery, should you need to. But then again Gum Max was designed to help you amplify and augment the battery life of your iPad, even the New iPad. And it rocks, just as much!
Giving you "a colossal 10,400 mAh capacity, and 2.1A current", it allows you to charge the iPhone battery up to 6 times, and about one and a half the iPad, at tremendous speeds altogether, so you wouldn't have to wait much before getting back into action. Even more so, you can continue working while charging the devices. So, as you can imagine, long gone are the times where I have to wait for that power outlet to be freed up, or to hunt down that power socket while at a conference venue, right before running out of juice. Now, it's all back to keep things going, knowing that battery life is no longer a problem for yours truly. Both Mophie and Just Mobile's smart and elegant solutions have helped me address and fix that growing pain of running out of battery life far too soon, at the most inconvenient of times. And if I'm traveling across the pond, it's always refreshing to know that I will be over 20 hours in transit without noticing a single glitch of a failing battery life and instead just keep working along! 
Yes, I would probably agree with you that both of those gadgets are certainly not very cheap, but I can tell you that if you spend more time on the road than what you do at your home / remote office, it's definitely one of the best investments that you could ever make as a remote knowledge worker. Highly recommended both of them!
And talking about best investments how about if we move on with what I feel has been one of the best purchases that I have done in a long while with regards to anything tech based. At least, for my mobile devices. Like I mentioned at the beginning of this blog post, over the course of the last couple of years I seem to have developed an addiction towards accessories, specially, for the iPad, mainly iPad Cases and external Keyboards. I think at this stage I may have tried out about a dozen of them of all sorts, shapes, product specs, capabilities, that you can imagine. And it is something that I haven't grown tired of just yet. It keeps building up! Although, I no longer feel the same urge as I did before… And all of that thanks to the absolutely delightful, and incredibly powerful altogether!, Logitech Ultrathin Keyboard Cover. 
I first read about it on Twitter, of course, where folks were raving around how powerful, yet smart it was; then I saw my good friend Dennis Howlett putting together a lovely blog post where he talked about how good it was, where he also included a short video clip on it. And that was it! I knew it right there that I wanted to have it. No further convincing needed. So while I was in Boston, for the Enterprise 2.0 conference event, I escaped for a few minutes to the nearest Best Buy shop and got myself one. And, boy, did it make a difference on how I do productive work on my iPad ever since! Tremendous!
Indeed, over the last couple of weeks I have been using my iPad quite extensively, even while at home!!, definitely much more than with other keyboard / cases I have tried out so far, just because of the Logitech Ultrathin Keyboard Cover, because it allows me to do extensive typing away on an instant access device I can take anywhere! So now I actually get to draft entire blog posts, work much more often than ever with Evernote, or whatever other note taking App, with my photos, with file sharing Apps, mindmapping along quite happily, Twitter and other Social Networking Sites Apps, with work related Apps, too! etc. etc. Goodness, it's transformed the way I interact with the iPad in ways I never thought I would. It's like combining the best of both worlds: a laptop computer, and a tablet, which for reduced spaces it's just perfect! Even when inside the plane! It just works without having to self-inflict yourself painful postures!
So there you have it. As I continue to keep reshaping my mobile (social) knowledge Web worker user experience in order to get the most out of my productivity, while on the road, I'm finding out it's a combination of both software and hardware the bits and pieces, here and there, that are helping me reach new levels of effectiveness and efficiency that I never thought I would be able to on mobile devices like my iPhone 4S or my new iPad. Thus, perhaps, it's also a really good time to resume  that rather interesting initiative I kept going for a good while, but that I left go dormant for perhaps far too long, because I didn't think it would prove too useful over the course of time. Well, I think I was wrong.
And it's probably a good time to confirm that, don't you think? It's about time that I resume again bringing up to live #elsuapps, specially, since I already tried it out, once more, in Google Plus and maybe now I have got a much better chance of sustaining it in the medium / long term, as I keep spending more and more time on the road using all of those super nifty iOS Apps, with the perfect hardware companion to make it relatively easy to roll things up again, I guess! Thus stay tuned for plenty more coolness and usefulness to come along! I am sure you will all enjoy it just as much as I am doing it myself with all of these hardware accessories. It's like being at a candy store, except perhaps that I have already got my sweets…