Archive for the 'Tools and Gadgets' Category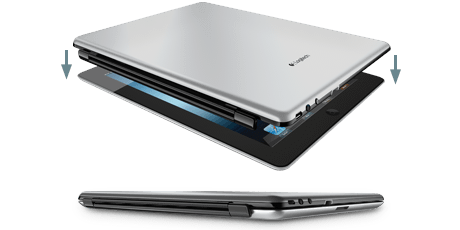 As I have mentioned on my last blog post, here's a follow-up entry for today where I'm going to pick things up from where I left them around some additional Productivity Tips for the Mobile (Social) Knowledge Web Worker. This time around not so much on software per se, but on hardware and, more specifically, for two different types of devices: iPhones and iPads. Over the course of the last couple of years I seem to have developed a bit of an addiction with regards to accessories for both of these types of devices, but things seem to have calmed lately now that I feel I may have found just what I wanted: Mophie, Gum Max and Logitech.
Indeed, as a mobile knowledge Web worker, always on the move, one learns to appreciate quite a bit those small pleasures of staying connected to a power outlet whenever, or wherever!, you may be working, just to keep up with your productive day work. Yet, time and time again, we keep failing bumping into those pocket sockets, whether at airports, at bars, restaurants, coffee shops, at customer sites, conference venues, etc. etc. You name it. Yet we know that we need to keep things going, because we have to. It's our job as mobile workers. So how do we do it? How do we keep our productivity levels up while on the road? 
Well, in my own case, and after having acquired a whole bunch of accessories, that didn't quite make the mark, by the way!, t think I may have landed on the Top 3 that have certainly boosted my effectiveness and efficiency, while I am travelling, to levels I probably thought in the past were not possible. Two of them are battery accessories (For my iPhone and iPad, respectively) and the last one is a keyboard / case for my iPad. 
You would remember how one of the main key issues we all get to experience, and suffer from!, with our mobile devices, whether smartphones or tablets, is the poor performance of the battery life from each and everyone of them. To the point where we all take for granted that while the battery would be, and should be, better, here we are, in 2012, and the innovation happening around that space is not as rampant, and fruitful as in other areas. So while we keep awaiting for that magic bullet that would revolutionalise the entire market in this area, we continue looking for workarounds that would be good enough to make us move forward. 
And after such a long search I think I may have bumped into the perfect combination that has worked really well, for myself, in the last few weeks. And therefore the reason why I thought it would be a good thing to put together this blog post over here to share the experiences of what's been like finding new tricks to battery life, as well as one of my biggest productivity boosts when using an iPad: an ultrathin keyboard cover. 
That's right, on my last couple of business trips that I have done over the course of the last few weeks I never leave home without my fully charged Mophie Juice Pack Plus, my Just Mobile Gum Max and my Logitech Ultrathin Keyboard Cover for the iPad. They have pretty much become indispensable for yours truly and I wouldn't know what things would be like without them, as a mobile knowledge worker, because all of that stress trying to find and locate a power socket or all of that frenzy typing with your bare fingers on the touch screen are now things of the past! And very happy to report they are and haven't walked back ever since! 
The Mophie Juice Pack Plus is that super nifty gadget for the iPhone 4 or 4S that acts as a rock solid battery case that allows you to protect your iPhone from damage, i.e. if it falls down or whatever else, at the same time that it gives you a full one and a half time charge of your smartphone regular battery life, which is just tremendously powerful when you are on the road for an extensive period of time and you don't have a power socket nearby. Not a problem anymore! That Mophie Juice Pack Plus gadget will solve it once and for all. Now, instead of charging my iPhone every single day I only have got to do it every other day, and, if I am lucky, perhaps even 2 or 3 times per week! Again, priceless, if you don't have access to AV current right away while travelling. 
But it gets better, because even if I run out of battery life both on my iPhone 4S and my Mophie Juice Pack Plus I still have got another little gadget that has transformed the way I interact with both my iPhone and my iPad: of course, I am talking about Just Mobile's Gum Max external battery, which, although originally designed for the iPad, also allows you to charge your iPhone's battery, should you need to. But then again Gum Max was designed to help you amplify and augment the battery life of your iPad, even the New iPad. And it rocks, just as much!
Giving you "a colossal 10,400 mAh capacity, and 2.1A current", it allows you to charge the iPhone battery up to 6 times, and about one and a half the iPad, at tremendous speeds altogether, so you wouldn't have to wait much before getting back into action. Even more so, you can continue working while charging the devices. So, as you can imagine, long gone are the times where I have to wait for that power outlet to be freed up, or to hunt down that power socket while at a conference venue, right before running out of juice. Now, it's all back to keep things going, knowing that battery life is no longer a problem for yours truly. Both Mophie and Just Mobile's smart and elegant solutions have helped me address and fix that growing pain of running out of battery life far too soon, at the most inconvenient of times. And if I'm traveling across the pond, it's always refreshing to know that I will be over 20 hours in transit without noticing a single glitch of a failing battery life and instead just keep working along! 
Yes, I would probably agree with you that both of those gadgets are certainly not very cheap, but I can tell you that if you spend more time on the road than what you do at your home / remote office, it's definitely one of the best investments that you could ever make as a remote knowledge worker. Highly recommended both of them!
And talking about best investments how about if we move on with what I feel has been one of the best purchases that I have done in a long while with regards to anything tech based. At least, for my mobile devices. Like I mentioned at the beginning of this blog post, over the course of the last couple of years I seem to have developed an addiction towards accessories, specially, for the iPad, mainly iPad Cases and external Keyboards. I think at this stage I may have tried out about a dozen of them of all sorts, shapes, product specs, capabilities, that you can imagine. And it is something that I haven't grown tired of just yet. It keeps building up! Although, I no longer feel the same urge as I did before… And all of that thanks to the absolutely delightful, and incredibly powerful altogether!, Logitech Ultrathin Keyboard Cover. 
I first read about it on Twitter, of course, where folks were raving around how powerful, yet smart it was; then I saw my good friend Dennis Howlett putting together a lovely blog post where he talked about how good it was, where he also included a short video clip on it. And that was it! I knew it right there that I wanted to have it. No further convincing needed. So while I was in Boston, for the Enterprise 2.0 conference event, I escaped for a few minutes to the nearest Best Buy shop and got myself one. And, boy, did it make a difference on how I do productive work on my iPad ever since! Tremendous!
Indeed, over the last couple of weeks I have been using my iPad quite extensively, even while at home!!, definitely much more than with other keyboard / cases I have tried out so far, just because of the Logitech Ultrathin Keyboard Cover, because it allows me to do extensive typing away on an instant access device I can take anywhere! So now I actually get to draft entire blog posts, work much more often than ever with Evernote, or whatever other note taking App, with my photos, with file sharing Apps, mindmapping along quite happily, Twitter and other Social Networking Sites Apps, with work related Apps, too! etc. etc. Goodness, it's transformed the way I interact with the iPad in ways I never thought I would. It's like combining the best of both worlds: a laptop computer, and a tablet, which for reduced spaces it's just perfect! Even when inside the plane! It just works without having to self-inflict yourself painful postures!
So there you have it. As I continue to keep reshaping my mobile (social) knowledge Web worker user experience in order to get the most out of my productivity, while on the road, I'm finding out it's a combination of both software and hardware the bits and pieces, here and there, that are helping me reach new levels of effectiveness and efficiency that I never thought I would be able to on mobile devices like my iPhone 4S or my new iPad. Thus, perhaps, it's also a really good time to resume  that rather interesting initiative I kept going for a good while, but that I left go dormant for perhaps far too long, because I didn't think it would prove too useful over the course of time. Well, I think I was wrong.
And it's probably a good time to confirm that, don't you think? It's about time that I resume again bringing up to live #elsuapps, specially, since I already tried it out, once more, in Google Plus and maybe now I have got a much better chance of sustaining it in the medium / long term, as I keep spending more and more time on the road using all of those super nifty iOS Apps, with the perfect hardware companion to make it relatively easy to roll things up again, I guess! Thus stay tuned for plenty more coolness and usefulness to come along! I am sure you will all enjoy it just as much as I am doing it myself with all of these hardware accessories. It's like being at a candy store, except perhaps that I have already got my sweets… 
Over the last few days I have been relatively quiet on this blog, more than anything else because I have been doing plenty of thinking, along with drafting a bunch of blog entries, on venturing to re-design and redefine the corporate workplace as we know it seeing the huge impact social computing is causing on how we get work done. I already ventured to share some of those insights on previous blog posts, as you may have already noticed, but I'm now ready to share plenty more. So it's time to pick up my regular blogging schedule and get down to business. How about if we take a look at the state of one of the most powerful use cases and success stories behind social networking and social media out there,
Customer Service
, and see whether we have got another winner or not… Hummm … not really. Colour me an skeptic then: "
I cannot go to the Opera, because I have forsworn all expense which does not end in pleasing me
" [by Charles Townshend]
For a good number of years, actually, for as long as I remember, my all time favourite default Web browser has been Opera. I know that may sound as pure heresy by those who live on Internet Explorer, FireFox or Chrome, for that matter, but, it's true. I have always been in love with that browser from the very first moment that I used it on Windows and now on Mac. Something that I cannot say for any of the others, as they have taught me, over the course of the years, to not trust them much for doing an effective job or for making my Web work any easier. Opera did though.
For those folks who may not be familiar with Opera it's that massive swiss knife-like Web browser that allows you to do a bunch of various different tasks and activities without leaving the application itself: email (Ha! Before you run into the wrong conclusions, like when I mentioned this over on Twitter, I still use *personal* email for private exchanges, specially, with those folks who loathe social networking tools or for those other who haven't bought into it just yet, but it's still my personal email, not work related); newsgroups and forums; Internet Relay Chat (a.k.a. I.R.C.); RSS / Atom newsfeeds; torrents, etc. etc. It's all you need in a browser to help you become a powerful knowledge Web worker. And it works. It *does* certainly work. Till you lose 7 years of history. 
That's right! Last week, I got a prompt to upgrade Opera v 11.62 to v 11.63 on the Mac through the Mac App Store. Free upgrade, as usual, rightly embedded into the App Store experience for the first time *ever* and ready to take the plunge. And there I went, and there I lost 7 years of both personal and some work related stuff. Ouch!!! The upgrade went all right, or so I thought. No glitches noticed and in a matter of minutes I was upgraded. The problem though became apparent when, after starting the browser, I could have access to everything (Bookmarks, links, speed-dial options, etc. etc.), except the Mail folder. The folder that contained all of those personal private email messages, several hundreds, if not thousands, of RSS feed items, newsgroups, forum posts, and so forth. All of that completely wiped out. Gone! 1.76GB of data smashed as if they never happened. 
Initially, I thought that the folder may have just been misplaced, or it may have been located elsewhere, but when trying to use Grand Perspective and WhatSize I just couldn't locate that 1.76GB of disk space anywhere. Just anywhere. I looked and looked for a couple of days and nothing to be found. All deleted. Wiped out. Completely. No more available and slowly entering into panic mode at that time! One of the reasons why I have delayed blogging about it because you know how it goes as one of the golden rules for blogging: never blog when you are upset or angry. But I was. I *certainly* was. Right there, last week, I was prompted to upgrade to a new version of my all time favourite browser and right there it managed to destroy that trustworthy relationship of the last 7 years. Panic mode growing stronger by the minute. So I turned to Opera's customer service hoping they might be able to help out. But, no, they couldn't. In fact, they didn't. Or worse, they never ever even responded! Talking about the power of Social Media in providing good customer support / service… Not!
I opened a Forum post at the Opera Forums for Mac users. 4 days later I'm waiting for the first response / reply from any of the support folks from Opera itself. Nothing has happened so far. So in an effort to get back to normal, I decided to reach out to them on Twitter and experience their customer support through social media channels. Just as inexistent, and still waiting for a response through a Mention, Forum Reply or whatever else. Yet, nothing: 
.@opera I could do with some further help on this thread > is.gd/A8JTde please? So far not much support offered Thanks!

— Luis Suarez (@elsua) April 19, 2012
I know at this point in time most of you folks may have been thinking that I'm making too much of a fuss with all of this, since I could just fire up my most recent copy of my data stored in my Time Machine, copy it across and move along. I did do that already and I managed to recover almost entirely from it, having lost only two weeks of data, but I still think it's beyond the point. If I am a customer, and end-user of your product, and I have run into trouble because of an upgrade you are advising me to take upon, the least I'm going to expect is for you to be there when I need you. When I need your help to get me back in business, because something may well go wrong, like it did. What I was not expecting at all was not perhaps a feedback comment that I had too much of bad luck, but the fact that there hasn't been a single reaction, *at all*. Again, talking about customer service in the era of Social Media engaging through social channels. Colour me skeptic once again, because it's just not happening!
And Opera is not just the only recent occurrence of this lack of customer service through social channels. In the past, and just through my own personal experiences, although my good friend Euan Semple has also got a recent, rather interesting, upsetting story on poor quality customer service from an ISP provider: Orange, other businesses like Delta Airlines, Movistar, Swisscom & NH Hotels have been running into the same issues of poor customer service and they have never gotten in touch. Months have gone by without anything happening and, at this point in time, I won't expect a response either. And the same would apply for Opera. Thus just like I did with all of those businesses (No longer flying with Delta, no longer supporting Movistar, no longer staying at NH Hotels who employ Swisscom as their wi-fi providers), over the weekend I recovered fully from the huge mess the upgrade caused and I have now stopped using Opera altogether and have moved on to RSS feed readers, specific mail clients (Sparrow), and both FireFox and Chrome as my new browsers. 
Now, I know I won't be trusting them to do the right job, since they never have done it properly in the first place, the browsers, I mean, but I already know that. I'm on guard with both of them and keeping an eye on my data to ensure it's all there in a consistent manner. However, I trusted Opera. I have trusted it for over 7 years to do the right thing and it has done so all along, but for one instance where a big mess was caused the last thing I expected was a lack of response. Not a single comment, not a single reaction. Sorry, but that hurts. Customer loyalty takes years to build effectively, just as much as trust does, but it just takes a split second to destroy and to not recover it again. So time for me to move on and don't look back, since they have done so just the same. 
I can imagine that plenty of businesses are buying into the whole mantra of using social media to be closer to their customers and help support them accordingly. The thing though is that you eventually need to do that. If you are going to be there, be there, be willing to actively listen to not only the wonderful, positive feedback that you get from your customers about your products, but also the rough commentary, the constructive feedback that people share kindly with you without expecting any kind of compensation except than you fixing your own problems with your products so that they can be happy customers again. If you are only willing to listen through social media to the kool-aid and how great your products are, you are just use social technologies as another marketing thingy, whatever name you would want to insert there, and we all know how much we, dear customers, loathe that kind of cheating behaviour. End result? What I started this blog post with: 
"I cannot go to the Opera, because I have forsworn all expense which does not end in pleasing me"
Posted on Jan 10, 2012 | Categories:
Collaboration
,
Enterprise2.0
,
General Interest
,
Innovation
,
iPad
,
iPhone
,
Knowledge Management
,
Knowledge Tools
,
Learning
,
Open Business
,
Personal KM
,
Productivity Tools
,
Tools and Gadgets
|
29 Comments

There used to be a time when I was very much in love with Twitter. It was my favourite social networking tool by far. It was quite an exhilarating experience being constantly exposed to some of the most amazing conversations and informal learning at its best. To me, it was *the* place to provoke plenty of facilitated serendipity to take place and keep in the know with all of that stuff one gets passionate about over the course of time. But then, after a short while, I started hating Twitter. Perhaps a bit too harsh of a word, maybe loathe could do.
Over the course of just a few weeks Twitter managed to destroy, in a very pernicious manner, not only the overall user experience, but the entire ecosystem as well that made it a success in the first place: Third party apps. And it totally hit me when I saw my all time favourite Twitter client (Nambu) disappear into thin air just because of that series of misbehaviours. Fast forward to the end of 2011 and I am back in love with Twitter again, not because of all of the various different new features and capabilities they have been putting together, but because I have finally found The Best Twitter Client On The Net: Janetter.
Yes, that's right! It surely looks like Twitter continues to be keen on destroying not just the Third Part Apps ecosystem that made it incredibly popular in the first place, but also some of its own desktop clients like Twitter for Mac or TweetDeck, where the latest upgrades have deteriorated the user experience for both of them tremendously altogether! Or so I am told. The thing is though that ever since I started making use of Janetter my overall user experience has seen quite a profound transformation.
It was through my good friend Rachel Happe that I first heard (Of course, on Twitter!) about this very special Twitter client that works both in Windows and on the Mac. She liked the experience and right away I thought about giving it a try myself, after having been actively searching for a good substitute for Nambu throughout all of this time playing with a bunch of other Twitter clients whether on the Mac or on iOS devices. And right off, within the first few hours I knew that Janetter would be my new, much preferred, default Twitter client on the Mac. What a beautiful experience, indeed!
I realise most of you folks would notice how I hardly ever get to talk about (Productivity) Tools and such on this blog, since I have always thought that they usually come and go and it's very hard to get attached to any of them over the course of time, because you never know when they will go ahead and disappear. But since a bunch of people have been asking me what I like so much about this particular Twitter client why not put together this blog post and share some of the most compelling reasons why I have been enjoying it since day one that I installed it. At the same time, there have been a few other folks who have tried it out themselves, after I mentioned on Twitter myself how much I enjoyed it, and they didn't like it at all. They actually thought it was a horrendous experience, so perhaps this article would help me share across some of the main reasons why Janetter is, to me, as good as it gets with regards to Twitter clients on whatever the platform. Hopefully, with that input it would give you a pretty good idea on whether you may want to give it a try or not.
So here are some of the most compelling reasons why I heart Janetter as my all time favourite Twitter client, even way above than Nambu, from back in the day:
Cross-Platform: Indeed, no matter whether you may be using Windows, or Mac, it would work in both just beautifully! Time and time again I kept finding it a challenge recommending a Windows client that would not be TweetDeck, which is, I guess, what most folks tend to use at the moment. And now we have got a pretty good and rather impressive rival: Janetter. (Yes, I do realise there isn't a version for Linux users at the moment, so those folks may need to continue using whatever tool they may have at the moment)
Scalability: You could probably say that I'm a power user of Twitter, and perhaps of several other social networking sites, too, and one of my favourite features from Janetter itself is how scalable it is! It's amazing! I have been using it rather heavily over the course of a few weeks now, with large networks and rather complex searches, and not a single glitch to be observed with the overall performance of the application or the machine altogether, which is not the same I could say about a bunch of other Twitter clients or even other social networking sites' Apps. That's a winner for me, specially, if you are a heavy user of Twitter yourself. Worth while a try just for that!
Reliability: Another one of my favourite features from this Twitter App. Like I said, I use it daily rather heavily and, probably, in the most extreme of circumstances hacking different behaviours and I have yet to see, and experience!, the first crash on the Mac! And that's been weeks of long and lasting use already! Like I said, not a single one!! Not sure what you would think about it, but that's what reliability is all about in my books, don't you think?
The Look & Feel: This may well just apply to Mac Fanboys, but one of the things you would very much like from this Twitter App is that it behaves and works in pretty much the same way than any other native Mac App, which is a lot to be said for an application that's developed to work cross-platforms. The time dedicated to make it look and feel like a native Mac App is just priceless. It doesn't give you the impression, at all!, that you may be using a Windows copy! No way! A big Yes!!
Customisation: This is an area that I know most folks would not care much about it, but I love it. Being capable of customising my own user experience of what I see and play with is just a tremendous bonus! The wide range of Skins with multiple colours, displays, fonts, etc. etc. and the extensive User Preferences to tame the experience to your own likes and dislikes, needs and requirements surely is quite a treat! And something that you hardly ever see on Twitter Apps at all these days.
Like TweetDeck: But … without the hassle. That's pretty much how I basically describe Janetter when people ask me about it. It's like TweetDeck but without all of those issues that keep crumbling the overall experience of Adobe AIR Apps (I had enough of the Kernel Panics, so I no longer use AIR on my MacBook Air and everything running smooth again!). Any kind of problem or issue you can find in TweetDeck it's fixed in this Twitter App, for real! Seriously, if you are looking for a pretty impressive alternatively to TweetDeck on the Mac, or on Windows, take it for a spin and see how it would work out for you. I can probably guarantee you won't be back ever since…
The Timeline: I guess at some point I should probably go ahead and put together a short screencast of how I use the Twitter Timeline to quickly scan through tweets and pause through those I would really want to digest and muse further about and when to speed up and move on. But if you try out Janetter youself you will see what that experience looks like to me at the moment. As easy as it can get and using something so relatively simple, yet so powerful as keyboard strokes to advance on reading tweets, as well as natural scrolling (Up or down or both!) without seeing the application come to a hault! No matter how fast you go! Just brilliant!

The Groups: This is probably the one single feature that most folks who use TweetDeck today, or any other Twitter client that allows you to gather twitterers by groups, would enjoy very much and by far! Creating groups in Janetter is just such a breeze! Groups as in Twitter Lists, obviously; if you have created them already, it's just as simple as displaying them and they will stick around pulling a bunch of initial updates to let you know how things are going, and then move from there. You can mark them all as read, if you would wish to as well, and you can have a whole bunch of columns without a single glitch on the overall performance itself. Very powerful and strongly recommended for power users, for sure! 

The Mentions: If you have been following me on Twitter for a while, over at @elsua, you would probably know how Twitter Mentions is my most simple, and long standing, grieving of my overall Twitter use. I have been complaining about how poor the accuracy of the Mentions is overall and time and time again we have seen how Twitter itself seems to be not very keen on wanting to address the issues and fix them. Well, no longer needed. Janetter did just that for me, allowing me again to catch up properly with those Mentions by not missing any of them! Pretty consistent and rather reliable! Not sure how they do it, but it just works! And thanks much for that!!
The Searching Capabilities: Whether you are searching for specific terms, whatever those may well be, even with complex searches, or following a particular hashtag (Like I am about to do with #ls12 and #connect12 when I get back to work – More on that soon!) Janetter's searching capabilities and real-time searches are just superb! Not matter how busy the Search timeline may well be, it will keep up with it and provide you with all you need. Just like that. No need to figure why this or that search doesn't work, or why it doesn't pull off updates. It just does it and beautifully! And in columns, too!! Which means that's rather easy to keep up with them in a single view without having to go click, click, click.
Following Conversations in Context: For those of us who have always considered Twitter one of the hottest places out there in the social networking sites realm for holding conversations on a wide range of topics, this Twitter client would be incredibly helpful and very powerful, because as you engage in conversations with other twitterers you would have an opportunity to catch up with them without having to go elsewhere. They are right there, embedded as part of the tweet stream, and in a rather beautiful and elegant manner, which is certainly everything, but disruptive, and that is what it should all be about! No longer will you be missing out on conversations in context while you are tweeting away! Fantastic and very much needed altogether!
An ecosystem on its own: Where viewing and displaying Twitter related data from other Twitterers, like their profiles, their latest tweets, the following, etc. etc. or the pictures and videos they keep sharing along works like a charm; embedded right there within the same window and with an opportunity of, once again, not having to go anywhere else, which means you can keep tweeting along without having to worry as to which window you were at at that very moment. Love how it takes tweeting in context into a new level altogether!
Muting Options: Yes, I know, I know, plenty of times I have been enjoying some serious rounds of twitterrhea myself, specially, when I am live tweeting conference events, and time and time again folks keep wondering how to mute me for a (long) while. Well, Janetter offers that opportunity, right there, in the Application itself and with a good number of options. So if you ever need to mute any of your social networks it will do the job just beautifully, which means you can keep your focus where you would want it to be, instead of getting distracted unnecessarily. Priceless, don't you think?
Support of Multiple Accounts: Ohhh, and if you have multiple Twitter accounts, this App would help you manage each of them rather elegantly as well. Now, I now longer need to worry about that one myself, but if I were, I would surely make use of it, instead of having to go for more costly options to try to achieve the very same thing. Very nicely done altogether!
Local Cache: This is perhaps my all time favourite feature from any of the Twitter clients I have used over the course of the years. From what I know it's not even available for the vast majority of them, but, to me, it's become an essential key feature I cannot longer live without. We all know that it's almost impossible to keep up with the Twitter streams, so we eventually get to dive in every so often to see what's happening. Well, Janetter takes that into a new level. It allows you to cache all of the tweets, so you can catch up with them, if you would want to!, at your own pace and rhythm. If you have got a special group of twitterers that you would always want to read all of their tweets this client would allow you to do that easily!

I love it particularly when I'm travelling, or away from the computer for an extended period of time, and would come back wanting to learn what's happened on my Twitter streams and there it goes… all of them (In the hundreds, or the thousands!) available with a single scroll! Yes, I know you are not supposed to read them all, but sometimes, whenever time allows you to, you do, and it's just such a treat having an App that fully supports it that overtime it's become the one single main reason why I couldn't live now without Janetter to keep up with those folks I'm keen on following up with. 

Really powerful altogether to give you, the end-user, the ability to decide how much you would want to dive into your tweet streams without going crazy, but having a good grasp of what's happening. Can you imagine Twitter allowing you to do that natively on their Apps or the Web interface? No, indeed, not a single chance! Massive kudos to Janetter in this regard, for sure!!
And, finally, perhaps the one single key favourite feature of them all. After all of what I have mentioned above, all of the reasons, features, capabilities and huge potential it offers to us heavy twitterers, I still find it quite amazing that Janetter is made free, as in FREE!!, for all of us. No doubt, even if they would ask us for money I think it'd be the best money spent on any Twitter client out there by far, I would buy a copy of it in a split second and without thinking too much about it!, but the folks behind it have made it available to us all free of charge, which is just probably as good as it gets!
That's about it, folks, here you have got in a single blog post the various many reasons why I'm now back in love with Twitter, not because of Twitter itself, or the technology behind it, but because thanks to the absolutely delightful user experience of Janetter I'm capable of doing something that in the last few months I kept struggling with time and time again: following, digesting, and learning plenty more in good context from the tweet streams of my favourite social networks, which, eventually, is the main reason of why Twitter exists for most of us and I am happy to see how this Twitter App is making that possible. At least, for me. Hope for you, too! If you have found this blog entry useful enough to take it for a spin, let me know in the comments what you think and whether it's helping you transform the way you interact with Twitter, like it has done with me so far and big time …
---
Ohhh, and in case you may be wondering what would be my favourite iOS clients for both iPad and iPhone, for when I am on the road, away from my MacBook Air, that would be Osfoora HD for the iPad and the native Twitter for iPhone client. But, once again, they are not the same as the real thing, which is why I do seriously hope that some day we would be able to see Janetter entering the iOS world helping us redefine that mobile Twitter user experience once again! I very much look forward to that!