Archive for the 'iPhone' Category
Posted on Aug 14, 2012 | Categories:
Collaboration
,
Communities
,
Enterprise2.0
,
IBM
,
Innovation
,
iPad
,
iPhone
,
Knowledge Management
,
Knowledge Tools
,
Learning
,
Open Business
,
Productivity Tools
|
4 Comments
I have been in the IT industry for well over 15 years now and for a good number of them I have been relying on multiple different systems. One of them being Windows. Fast forward to today, and as most folks out there would know, if you have been following me on any of the various social networking sites, I have been using Apple products (Macs, iPhone and iPad) for nearly 6 years now and, just recently, I have finally come to terms with the main reason why I made the switch back then and have never walked back. My levels of productivity and effectiveness have never been the same anymore. And it's just too funny that it's all due to having watched a recent video clip in Wired from a never-aired Apple commercial in 1983! Yes, 29 years ago some folks over at Apple truly understood and fully embraced the Power of Social. Who would have thought, eh?
I am sure you are all wondering what I am talking about, which video is that one that I am referencing above, what difference does it make that I have moved to the Mac nearly 6 years ago on how I view my own involvement with social networking for business and how I'm more and more convinced they may have provided us all with that tipping point of why there is hope that the Social Enterprise concept will stick around for a long while, if we pay attention to how plenty of large enterprises and businesses are looking closely into the potential impact of Apple devices inside of the workplace (Despite some horrifying experiences that we have bumped into just recently as well). 
Well, I am referring to this piece in Wired, under the title "Former Apple Engineer Posts Unseen Mac TV Ad From 1983", which references this Google Plus post by Andy Hertzfeld where he quotes an Apple commercial for the original Macintosh that they did in the fall of 1983, but which, apparently, never aired and I think I can see why! Although it is not the main sentiment that Andy mentions on the Plus post. Here it is the embedded code, so that you can play it. It lasts for a little bit over a minute: 
Noticed something different in that advertisement? No? Really? Don't worry, I'm not talking about the discourse of how the Macintosh came together in the first place, but about something a whole lot more subtle that has escaped most people's perceptions on the repercussions of such bold statements. Specially, my favourite one. The one from Mike Murray, the Director of Marketing of the Macintosh division back then, who just basically stated the following: 
"And I think what you are going to see is that the balance of power is going to shift. The balance of power from companies running people to, hopefully, people running companies" [Emphasis mine]
Does that ring a bell? Specially, in the context of Living Social in the workplace? You bet it does! And this is where I came to realise what making use of Apple products has meant for me over the course of the last few years, as I got more and more heavily involved with technology and social networking tools, for that matter, to get my work done. That's the fact that technology is no longer a hurdle for yours truly. There are no more headaches, no more screams, nor yelling, at the screen b*tching about why a certain action didn't take place when I did everything correctly. No more demotivated and frustrated things don't turn around on the screen just right, as you would have expected. Finally, it all eventually falls into place. It all just works! And beautifully.
And that's certainly the beauty behind that powerful quote from Mike, because, if anything, it allows us to do something that would be very much needed at this point, which is forget about technology, use it as a tool, as a means to achieve a goal and focus on the behaviours, on the mindset, on changing people's habits, on helping them understand you, too, can have a wonderful experience, i..e. eventually, becoming more effective and efficient at what you already do, without having to suffer from the odd technology hiccup, just like that, allowing you to focus on what we would always need to focus on: the conversations. The conversations with people regardless of where you and they are, regardless of the device you are using, whether mobile or not, and regardless of the nature of the interaction. Just converse.
Who would have thought that, 29 years ago, the vision was already there! Who would have thought that those folks portrayed on the video clip were on a bigger mission: helping shift corporate dynamics from a rather heavy technology focus / fetishism, where people were just resources, towards that much more liberating, creative, inspiring, collaborative and knowledge sharing prone environment where people were, still are!, people, interacting with the tools to get something out of those interactions, because tools will always be tools. Yes, some times it would be hard to explain. But then again, that's where play kicks in. We do need more play at work. Specially, for all of that stuff that we find difficult to justify and explain, but that it's essential to every single business. Something that people, human beings, have been excelling at for many millennia. And for plenty more to come along!
Yes, I almost became an instant #fanboi. Almost. but what a powerful one-liner, don't you think? One that can certainly change the world. For the better. Our little corporate world and the larger one for that matter, too!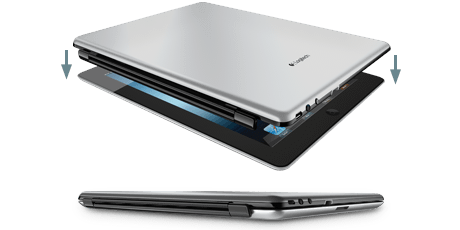 As I have mentioned on my last blog post, here's a follow-up entry for today where I'm going to pick things up from where I left them around some additional Productivity Tips for the Mobile (Social) Knowledge Web Worker. This time around not so much on software per se, but on hardware and, more specifically, for two different types of devices: iPhones and iPads. Over the course of the last couple of years I seem to have developed a bit of an addiction with regards to accessories for both of these types of devices, but things seem to have calmed lately now that I feel I may have found just what I wanted: Mophie, Gum Max and Logitech.
Indeed, as a mobile knowledge Web worker, always on the move, one learns to appreciate quite a bit those small pleasures of staying connected to a power outlet whenever, or wherever!, you may be working, just to keep up with your productive day work. Yet, time and time again, we keep failing bumping into those pocket sockets, whether at airports, at bars, restaurants, coffee shops, at customer sites, conference venues, etc. etc. You name it. Yet we know that we need to keep things going, because we have to. It's our job as mobile workers. So how do we do it? How do we keep our productivity levels up while on the road? 
Well, in my own case, and after having acquired a whole bunch of accessories, that didn't quite make the mark, by the way!, t think I may have landed on the Top 3 that have certainly boosted my effectiveness and efficiency, while I am travelling, to levels I probably thought in the past were not possible. Two of them are battery accessories (For my iPhone and iPad, respectively) and the last one is a keyboard / case for my iPad. 
You would remember how one of the main key issues we all get to experience, and suffer from!, with our mobile devices, whether smartphones or tablets, is the poor performance of the battery life from each and everyone of them. To the point where we all take for granted that while the battery would be, and should be, better, here we are, in 2012, and the innovation happening around that space is not as rampant, and fruitful as in other areas. So while we keep awaiting for that magic bullet that would revolutionalise the entire market in this area, we continue looking for workarounds that would be good enough to make us move forward. 
And after such a long search I think I may have bumped into the perfect combination that has worked really well, for myself, in the last few weeks. And therefore the reason why I thought it would be a good thing to put together this blog post over here to share the experiences of what's been like finding new tricks to battery life, as well as one of my biggest productivity boosts when using an iPad: an ultrathin keyboard cover. 
That's right, on my last couple of business trips that I have done over the course of the last few weeks I never leave home without my fully charged Mophie Juice Pack Plus, my Just Mobile Gum Max and my Logitech Ultrathin Keyboard Cover for the iPad. They have pretty much become indispensable for yours truly and I wouldn't know what things would be like without them, as a mobile knowledge worker, because all of that stress trying to find and locate a power socket or all of that frenzy typing with your bare fingers on the touch screen are now things of the past! And very happy to report they are and haven't walked back ever since! 
The Mophie Juice Pack Plus is that super nifty gadget for the iPhone 4 or 4S that acts as a rock solid battery case that allows you to protect your iPhone from damage, i.e. if it falls down or whatever else, at the same time that it gives you a full one and a half time charge of your smartphone regular battery life, which is just tremendously powerful when you are on the road for an extensive period of time and you don't have a power socket nearby. Not a problem anymore! That Mophie Juice Pack Plus gadget will solve it once and for all. Now, instead of charging my iPhone every single day I only have got to do it every other day, and, if I am lucky, perhaps even 2 or 3 times per week! Again, priceless, if you don't have access to AV current right away while travelling. 
But it gets better, because even if I run out of battery life both on my iPhone 4S and my Mophie Juice Pack Plus I still have got another little gadget that has transformed the way I interact with both my iPhone and my iPad: of course, I am talking about Just Mobile's Gum Max external battery, which, although originally designed for the iPad, also allows you to charge your iPhone's battery, should you need to. But then again Gum Max was designed to help you amplify and augment the battery life of your iPad, even the New iPad. And it rocks, just as much!
Giving you "a colossal 10,400 mAh capacity, and 2.1A current", it allows you to charge the iPhone battery up to 6 times, and about one and a half the iPad, at tremendous speeds altogether, so you wouldn't have to wait much before getting back into action. Even more so, you can continue working while charging the devices. So, as you can imagine, long gone are the times where I have to wait for that power outlet to be freed up, or to hunt down that power socket while at a conference venue, right before running out of juice. Now, it's all back to keep things going, knowing that battery life is no longer a problem for yours truly. Both Mophie and Just Mobile's smart and elegant solutions have helped me address and fix that growing pain of running out of battery life far too soon, at the most inconvenient of times. And if I'm traveling across the pond, it's always refreshing to know that I will be over 20 hours in transit without noticing a single glitch of a failing battery life and instead just keep working along! 
Yes, I would probably agree with you that both of those gadgets are certainly not very cheap, but I can tell you that if you spend more time on the road than what you do at your home / remote office, it's definitely one of the best investments that you could ever make as a remote knowledge worker. Highly recommended both of them!
And talking about best investments how about if we move on with what I feel has been one of the best purchases that I have done in a long while with regards to anything tech based. At least, for my mobile devices. Like I mentioned at the beginning of this blog post, over the course of the last couple of years I seem to have developed an addiction towards accessories, specially, for the iPad, mainly iPad Cases and external Keyboards. I think at this stage I may have tried out about a dozen of them of all sorts, shapes, product specs, capabilities, that you can imagine. And it is something that I haven't grown tired of just yet. It keeps building up! Although, I no longer feel the same urge as I did before… And all of that thanks to the absolutely delightful, and incredibly powerful altogether!, Logitech Ultrathin Keyboard Cover. 
I first read about it on Twitter, of course, where folks were raving around how powerful, yet smart it was; then I saw my good friend Dennis Howlett putting together a lovely blog post where he talked about how good it was, where he also included a short video clip on it. And that was it! I knew it right there that I wanted to have it. No further convincing needed. So while I was in Boston, for the Enterprise 2.0 conference event, I escaped for a few minutes to the nearest Best Buy shop and got myself one. And, boy, did it make a difference on how I do productive work on my iPad ever since! Tremendous!
Indeed, over the last couple of weeks I have been using my iPad quite extensively, even while at home!!, definitely much more than with other keyboard / cases I have tried out so far, just because of the Logitech Ultrathin Keyboard Cover, because it allows me to do extensive typing away on an instant access device I can take anywhere! So now I actually get to draft entire blog posts, work much more often than ever with Evernote, or whatever other note taking App, with my photos, with file sharing Apps, mindmapping along quite happily, Twitter and other Social Networking Sites Apps, with work related Apps, too! etc. etc. Goodness, it's transformed the way I interact with the iPad in ways I never thought I would. It's like combining the best of both worlds: a laptop computer, and a tablet, which for reduced spaces it's just perfect! Even when inside the plane! It just works without having to self-inflict yourself painful postures!
So there you have it. As I continue to keep reshaping my mobile (social) knowledge Web worker user experience in order to get the most out of my productivity, while on the road, I'm finding out it's a combination of both software and hardware the bits and pieces, here and there, that are helping me reach new levels of effectiveness and efficiency that I never thought I would be able to on mobile devices like my iPhone 4S or my new iPad. Thus, perhaps, it's also a really good time to resume  that rather interesting initiative I kept going for a good while, but that I left go dormant for perhaps far too long, because I didn't think it would prove too useful over the course of time. Well, I think I was wrong.
And it's probably a good time to confirm that, don't you think? It's about time that I resume again bringing up to live #elsuapps, specially, since I already tried it out, once more, in Google Plus and maybe now I have got a much better chance of sustaining it in the medium / long term, as I keep spending more and more time on the road using all of those super nifty iOS Apps, with the perfect hardware companion to make it relatively easy to roll things up again, I guess! Thus stay tuned for plenty more coolness and usefulness to come along! I am sure you will all enjoy it just as much as I am doing it myself with all of these hardware accessories. It's like being at a candy store, except perhaps that I have already got my sweets… 
Posted on Jul 6, 2012 | Categories:
Collaboration
,
Enterprise2.0
,
Innovation
,
iPad
,
iPhone
,
Knowledge Management
,
Knowledge Tools
,
Learning
,
Open Business
,
Personal KM
,
Productivity Tools
,
Travelling
|
4 Comments
One of my favourite activities within the Social Web realm has always been that ability to keep up that playful spirit of finding opportunities time and time again to fine tune my overall user experience using social networking tools, whether internal or external, in order to find new use cases, or productivity tips, that would help boost my performance in allowing me to get work done in a smarter way, not necessarily working harder. And since lately I keep traveling quite a bit and spend more time on the road than at my home office, I thought it would be a good time exploring how I can improve my overall knowledge Web worker experience using various social networking / productivity tools while on the road. And, after plenty of experimentation I think I may have hit a magic formula that I have grown to become rather fond of in the last few weeks and that I think I am now ready to share it across with all of you folks who may be interested in finding out what's all the fuss I have been making about it all along: TweetBot + Pocket + Evernote = Mobile Productivity Heaven!
As you may have noticed, over the course of the last few months, I have been blogging a couple of times on how increasingly tough it's getting for yours truly to keep up with a reliable Internet connection, while on the road, or at home, so I have learned to treasure AND maximise the time that I remain connected to the Social Web to grab all of the information that I need and eventually continue working offline trying to find new methods of improving that offline productivity. And, like I have just mentioned above, I think I may have found that brilliant combination that will certainly help me along quite nicely. 
So, I thought, why not share it across over here in this blog, for other folks to perhaps learn a new trick or two, or maybe expose that method across and see if other folks have got other, improved, methods of maximising that online exposure to continue working offline. And here I am! Thus, let's go for it! Let's see where it takes us …
As you may well remember, at the beginning of the year I mentioned how I was planning to stop spreading thinner out there on the Social Web and focus on what I then called The Big Three, that is, the three major social networking tools that I would be focusing on to get my work done: IBM Connections (Mostly for work related stuff), Twitter and Google Plus. 
Well, while I am eagerly awaiting for Google Plus to finally land with its own native iPad App, which I think is coming up pretty soon, perhaps even to mark its first anniversary, who knows!, and while I have been enjoying tremendously the latest version of the IBM Connections App on iOS devices (More on that one shortly, too!), I guess it was time for me to fine tune my Twitter experience, while on the move. And, boy, have I found a superb option right there?!?!
Earlier on in the year, I blogged about how Janetter is my all time favourite Twitter desktop client  on the Mac (By the way, it works in Windows, too!) and how I kept looking for a counterpart for my iOS devices, specially, for when I was travelling not bringing along the MacBook Air with me. And I found it. And I bought it. And I enjoyed it. And I started loving Twitter again while on the move! That absolutely essential Twitter App for mobile devices is called Tweetbot and I can tell you that after having tried several dozens of Twitter mobile Apps it's just as good as it gets. For real!
Perhaps at some point in time I will create another blog post along the same lines of the one on Janetter and share Top 10 reasons why I heart Tweetbot big time as my default mobile Twitter client. But for now, I'll go ahead and share across the main reason why I love that App: having the opportunity of going through an extended catchup of my timeline. You know, when I am on the road I am usually stuck on queues waiting for things to happen. Waiting for public transport, at airports waiting to check-in, or while boarding, waiting for meetings, at conference events, workshops, seminars, summits, etc. etc. you name it.
So I keep finding myself with plenty of time to go back in time on my timeline and catch up with my favourite source of news, insights and information on what's happening around me, work related or not. And I try to make extensive use of it to keep up to date with what's happening. In most cases I won't be the kind of person who would be tweeting a lot, unless I'm live tweeting at a conference event, of course, but just reading through the tweets, diving into the Social Flow(s), trying to maximise the time I remain connected to see what's happening and what I may need to pay attention to. And Tweetbot allows me to do that beautifully. If you haven't tried it out I can certainly recommend it. 
Then, once I bump into those golden gems that I would want to dive into, but that I didn't just have time to explore further there is a second feature that I truly love from Tweetbot which is just fantastic. Oh, by the way, Janetter also has it, in case you are wondering. And that is a super user friendly integration with another one of my favourite productivity tools that I have been using for a while now: Pocket (Formerly known as Read It Later). Pocket is pretty much like Instapaper, except that it is free. It's a service that allows you to save links to Web sites to view at a later time while offline! And I must admit that I don't know why but the overall user experience, and, specially, the flow is far more attractive than that one from Instapaper. So I stuck around with it and I am glad now that I have, because I am enjoying it big time!
Pocket has got a bookmarklet, too, that I can use from my favourite desktop browsers, so I can still continue making use of it while using the Mac, but it also has got a fantastic iOS App that provides a superb user experience of fully interacting with the app while reading all of that offline content. It allows you to both search for it, as well as tag interesting items, you can star (mark as favourites) articles, mark them as read and a whole bunch of other nifty capabilities. Like I said, highly recommended!
Essentially, the way I use it in combination with Tweetbot though, while on the road, is that I have the latter configured to save items to Pocket with just a single tap, tap, of my fingers and off it goes, so within a matter of minutes I end up with several dozens of articles to read offline for when I am no longer connected. And off I go! Just brilliant! 
Then when I am offline, which seems to be happening far too often nowadays with all of that business travelling, I fire up my third favourite productivity tool at the moment, which has become, essentially an extension of my physical memory for everything that I do and that I would want to annotate further, should I want to refer to it at a later time. Got a new idea that I have just come up with and want to write it down, there it goes. Have I got an interesting news article, blog post, Web clipping, thought, insight I would want to bring forward on to an upcoming blog post of mine, there it goes again. Have I got a quick thought I would want to jot down through audio, not a problem, there it goes one more time. Like I said, I truly meant those words that this particular productivity tool has become an extension of my memory. Of course, I am talking about Evernote. 
There are plenty of great use cases that I have developed for Evernote, as a personal productivity tool, over the course of time and I will perhaps detail some of the most compelling ones on another upcoming blog post, but one of my favourite ones, at the moment, when combined with Tweetbot and Pocket is that ability of creating a note where I just draft blog posts from stuff I have bumped into through Tweetbot or that I may have saved into Pocket. Then, when I am back on to a steady Internet connection, I just sync those updates into the Evernote servers, get to my MacBook Air, launch both Evernote itself and MarsEdit (My default offline blogging client that I have been using for years now!), copy and paste from one to the other, fine tune the post, proof read it, add links accordingly and voilá! Blog post will then be published! On to the next one! Yay!!
And there you have it! All set on to new productivity levels as a mobile social knowledge Web worker. It's just too funny though, because, just the other day I was talking to one of my good friends at another event, who is also a heavy twitterer himself, and he was surprised how this year I keep taking extended breaks from Twitter and he kept wondering whether I was having enough of it all and decided to give up on it altogether or not. No, not at all. Far from that. What's happening is that since I keep struggling with staying connected while on the move, I have made the decision to shift towards offline working, where I possibly can, and I sense I have now found that magic formula that would still allow me to remain productive, while catching up with things and then share across what I have learned, which is essentially what folks would be able to find out with these blog posts that I keep sharing across over here every so often. 
And it is thanks to that magic formula of Tweetbot + Pocket + Evernote that I have finally been capable of taming that growing pain and frustration of struggling to get work done while I am on the road, but there is still something else out there that has allowed me to improve those offline productivity bursts even more and into levels I never thought possible. This time around though nothing to do much with software, but with hardware accessories. But that would be the time for another blog post coming up next! 
Ready? It's coming … But before we dive into it can you have a guess about what it may well be? Folks who may have seen me face to face in the last couple of weeks may have noticed already what I am referring to, since they, too, loved both of those accessories, but what do you think? Any ideas what they may well be?

Stay tuned! Coming up!